Innovative solutions for people with diabetes
Diabetes
Technology
Digitalization, miniaturization, automation and data analysis are transforming diabetes therapy. Innovative technologies enter the market and change the rules of the game – with our experience of more than 15 years of successful work in the Diabetes market, we support you in mastering these changes. ⬢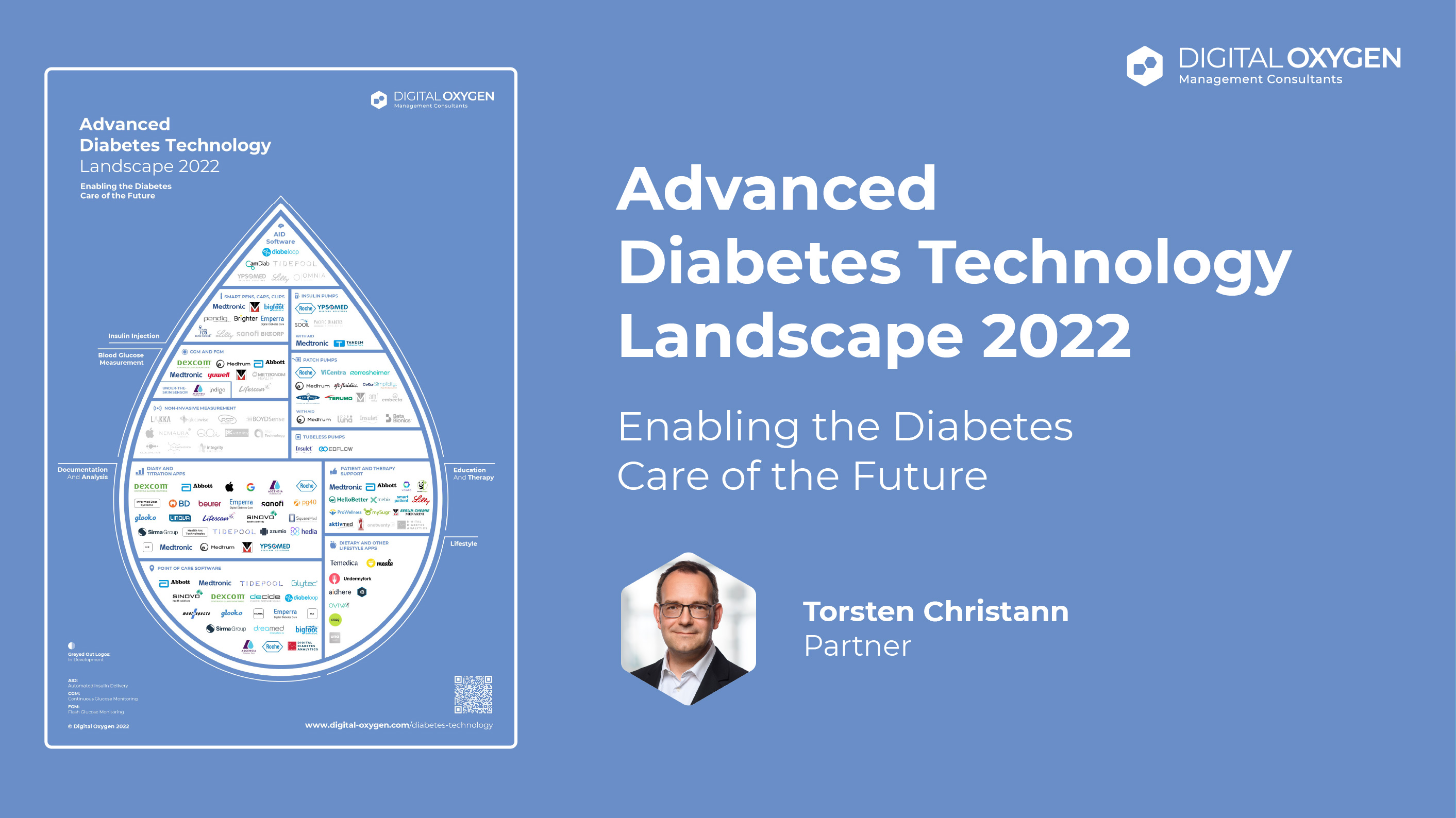 Advanced Diabetes Technology Landscape 2022
The Advanced Diabetes Technology Landscape 2022 gives a structured overview of the companies shaping the future of Diabetes Care.


Diabetes Technology Services
A successful product launch needs way more than a great product.
Especially in diabetes care, support quality and onboarding for new products are a decisive success factor. The  circle of participants includes practices, diabetes counseling and the patient community alike. Together with our clients, we develop comprehensive go-to-market concepts and accompany the implementation: So, from A for application study to Z for admission requirements for everything is thought of.
Strong fragmentation and complex reimbursement characterize a growing diabetes market.
In addition to individual treatment processes, the market structure in terms of competition, financing and therapy capacity significantly determines the potential of new products. Based on many years of diabetes market knowledge, detailed market analyses and targeted market research, we determine the most important influencing factors for future success.
Diabetes therapy is changing – we help to find the  right balance with all parties involved
The diabetes care market is characterized by the influence of many stakeholders whose roles are currently undergoing major changes. Patients are becoming more self-determined in product selection and more self-sufficient in use, physicians are consciously choosing to restrict access for industry, but continue to be the key in the prescription process. Also, insurers are more involved in product selection for their patients. Digital Oxygen helps you successfully combine these perspectives to find the right balance in your commercialization strategy.
EVALUATION OF PARTNERSHIPS
We find the right Partner for sustainable success
Even as a manufacturer, you don't have to solve every challenge on your own. With our many years of broad experience in the diabetes care market, we help our customers find the ideal partners to succeed in this complex and diverse environment.  Based on your commercialization strategy, we define with you the decisive factors and required skill sets for potential partners – depending on which target group you want to focus on: HCP / medical practices, diabetes patients, key opinion leaders or health insurance companies.
PATIENT-FOCUSED-MARKETING
The Diabetes market is changing due to more mature patient behavior and empowerment
Through internet consumption and experiences taken from other industries, diabetes patients are becoming more and more self-determined. Their influence in product choice is increasing. No longer does the practice team alone make therapy and product decisions.  Social media and online activities are becoming increasingly important in the marketing mix. The Digital Oxygen team supports you in gaining an overview of effective, patient-focused  marketing channels and in developing individualized marketing approaches based on cross-industry best practices.